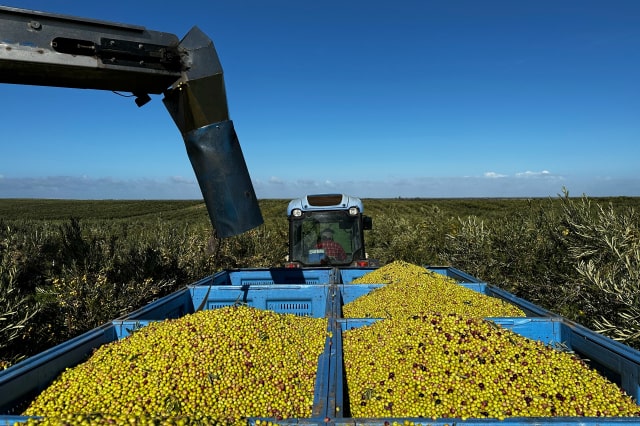 Weather Conditions Impact Australia's Olive Harvest
The Australian olive industry endured challenging weather conditions which has impacted the 2023 harvest.
Unseasonably cold, wet weather resulted in a shorter growing season, slower ripening of fruit and a delayed harvest, according to President of the Australian Olive Oil Association, David Valmorbida.
"Early in the season the industry was poised for a promising harvest, but cold weather and rain in May and June, particularly in the south east Australia had an impact," Mr Valmorbida said.
While the Australian olive harvest is not officially tracked, the Australian Olive Oil Association (AOOA) estimates the 2023 harvest will yield between 18-19 million litres of oil from approximately 110,000-120,000 tonnes of fruit.
This is compared to last year's harvest of 14-15 million litres and the record 2021 crop of 20-22 million litres of olive oil.
"We need to take into account the biennial cycle of olives," Mr Valmorbida said. "This is an 'on' year for olives and while we made a prediction for a very good harvest earlier in the year, it's always weather dependant and the result has been mixed for growers."
"The oil yield is definitely lower than average because of the cooler growing conditions, but the quality of oil remains high because the fruit ripened slowly," Mr Valmorbida added.
Olive oil is commanding record prices in Spain, Italy and Greece because of the global shortage of olive oil due to high temperatures and severe lack of rain at key times in the growing cycle, as well as general drought in Southern Spain over an extended period. Plus, there is increased demand because of the conflict in Ukraine where the production of vegetable and seed oils has been disrupted.
In Australia growers are fetching between $6-7 per litre for larger commercial volumes of olive oil, and higher prices for some batches to export markets, or for small batch, high quality, or organic extra virgin olive oil.
"With the global shortage of olive oil, some larger Australian growers are in a good position to export olive oil to Europe and be well rewarded," Mr Valmorbida said.
"Despite good news for Australian olive oil, it is a very difficult time for the olive oil sector globally, with a 35-40% shortage of product combined with very high packaging costs, especially glass and tin.
"These issues, coupled with high labour and energy costs, mean consumers will be paying more for olive oil.
"So, it is timely to remind consumers there is no other product like olive oil; for its taste, health benefits and versatility," Mr Valmorbida said.
"While this is bad news for consumers of olive oil, it could be a positive for Australian olive farmers, who will continue to benefit from high market prices of imported olive oil for the foreseeable future. Hopefully, this will underpin and reinforce much-needed further investment in olive grove expansion in Australia," Mr Valmorbida said.
The Australian Olive Oil Association is a not-for-profit, independent body focused on the quality of olive oil, the promotion of olive oil and fair competition within the industry. Membership is open to producers, distributors, interested stakeholders and industry-related bodies.
AOOA has been a signatory to the global quality control program of the International Olive Council (IOC) since 1993. AOOA coordinates the annual testing program of leading olive oil brands by independent laboratories. All AOOA members agree to abide by the IOC standard. AOOA also manages the AOOA Certified Quality Seal Program, which involves an even higher standard of quality monitoring, and allows products marketed by AOOA members to stand out.
For more information:
Jan Jacklin, General Manager, Australian Olive Oil Association
0417533281
gm@aooa.com.au