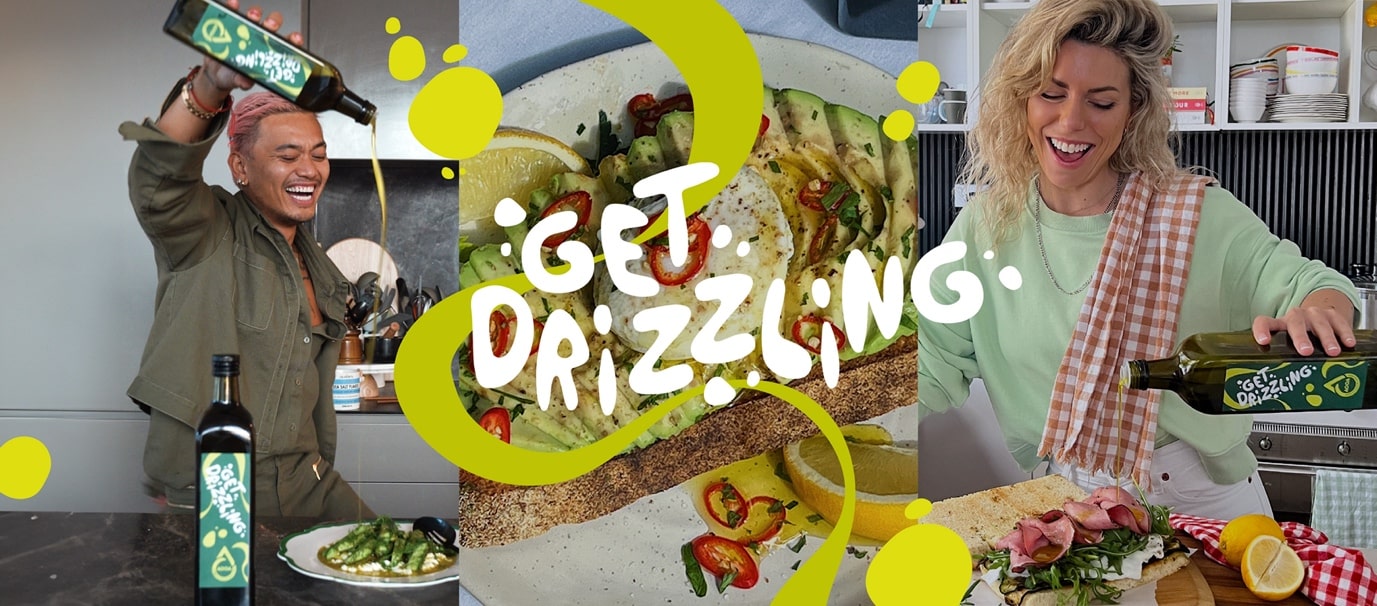 Get Drizzling Australia
A new 3-year marketing campaign to encourage Australians to 'Get Drizzling' has just been launched by the Australian Olive Oil Association (AOOA).
https://youtube.com/@GetDrizzling-ly3pw?si=NjqAu6Dp-CeBz6NF
The digital campaign celebrates olive oil as a vital condiment in the kitchen, adding flavour, texture, aroma and flair when it's drizzled to finish a dish.
President of AOOA, David Valmorbida says the campaign is a milestone for the industry. "It's the first time the olive oil industry has developed a consumer campaign in Australia that promotes all types and origins of olive oil. What's also significant is that the campaign is brand agnostic, because we want all brands to get behind the opportunity to help increase demand and consumption of the product. We're celebrating the category of olive oil, and we want Australians to use more of it.
"Most people use olive oil for dressing salads and bread dipping, but there are so many more possibilities. By drizzling olive oil on everything from smashed avocado to a superbly cooked steak and even ice cream, it's easy to add another layer of flavour to dishes at home and lift meal to something more impressive.
"Ultimately we want to change people's behaviour by encouraging them to drizzle olive oil on every dish. It's simple, has health benefits and is delicious," Mr Valmorbida said.
The Association worked with three of Australia's leading tastemakers to help deliver the 'Get Drizzling' message; professional chef Khanh Ong, food-loving Mum Leah Itsines and recipe creator Lucy Rosenberg. Each created several recipes for the campaign, and all the dishes are finished with a generous drizzle of olive oil.
The influencers are also featured in a series of 'Get Drizzling' ads on Instagram, Meta and Tik Tok and there are 'Get Drizzling' ads on popular recipe, news and entertainment sites.
"The Association is proud to be providing leadership on this campaign and driving a fresh approach to marketing olive oil. We wanted to create something different with this campaign and steer away from well-worn vistas of olive groves and close-ups of olive oil that lack the human passion and personality a good meal is all about.
'Get Drizzling' is fun, energetic and contemporary and celebrates the joy that good food brings," Mr Valmorbida said. He added, "The campaign could not have come at a more important time. Olive oil supply and pricing is under enormous pressure worldwide. Through this campaign we want to remind home cooks and passionate foodies that a drizzle of olive oil is a brilliant way to add flavour to every dish."
'Get Drizzling' is proudly supported by the Australian Olive Oil Association and core funding partners Squeaky Gate, La Espanola and Moro.
The Australian Olive Oil Association is Australia's leading independent industry association for olive oil. Members include Australian and international producers, distributors, and packers. AOOA members represent most of the olive oil sold in Australia.
The Association is focused on the promotion of olive oil, international trade standards and fair competition in the Australian industry.
For more information:
Jan Jacklin, General Manager, Australian Olive Oil Association
0417533281
gm@aooa.com.au